Information Security Awareness, AAV, and CYA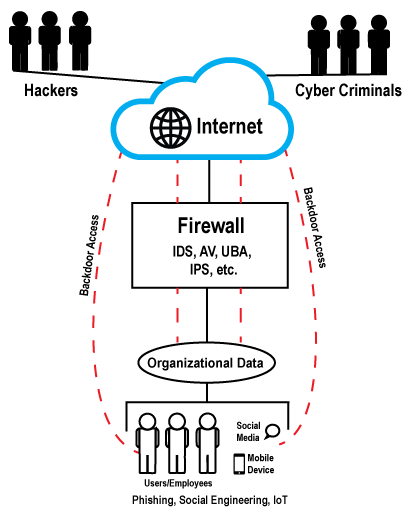 At Awareity, we understand the critical importance and the truly game-changing advantages to having the right tools AND the right awareness for every User (employees, clients, third-party service providers, contractors, vendors, etc.) who has access to your organization's network and sensitive data.
The right awareness for every User requires ongoing awareness (daily, weekly, monthly, situational, etc.) to eliminate commonly exploited GAPS allowing ransomware, malware, and other evilware to gain unauthorized access to your valuable, sensitive, and proprietary data.
Awareity delivers:
• The most complete platform-as-a-service (tools, reports, documentation, etc.).
• The most effective Cyber/Information Security and Hacker Awareness training for eliminating dangerous and costly GAPS that grow bigger and bigger starting the day after conventional annual training is completed.
• Efficient and completely customizable policy management solutions.
• Additional specialized awareness training for HIPAA, FERPA, and PCI as well as other recommendations and requirements.
---
Eliminating Gaps
To eliminate the GAPS, your organization needs proven strategies and the right tools to deliver the right awareness to all the right people WITH Accountability and Measurability… automatically!
Awareity's Awareness & Accountability Vault (AAV) is proven to eliminate costly awareness GAPS with
Regulatory, Legal, Security Guidelines, Safety Standards, Human Resources, Accreditations, Certifications, and numerous other mounting obligations.  And Awareity's AAV delivers legal-ready and audit-ready documentation for your CYA (Compliance Year Around).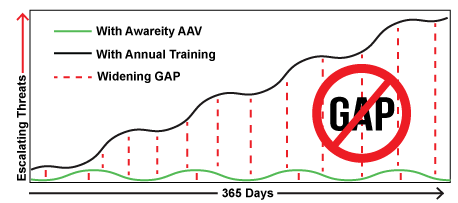 What our clients are saying:
"Educated employees are a good first step in helping to avoid unnecessary expenditures that will result when there is an IT security breach or malicious conduct."
"The tool also allows us to track and document all report acknowledgments and collaborate easily across the state in one secure location."
"Training adds value as it makes County employees aware of ongoing dangers/pitfalls and provides helpful suggestions as to how the average user can enhance security by putting these suggestions into practice."