We believe in making the world safer by questioning status quo thinking
and giving Good People the advantage over evil doers.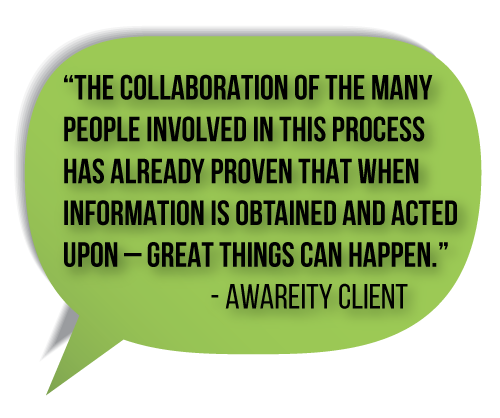 We are on a mission to make the world safer with a Butterfly, knowledge, action, and clients who believe Good can disrupt and stop Evil.
If we could pick just three words to describe Awareity's Community-wide Connecting the Dots Platform they would be:
World-Changing
Cost-Effective
No-Brainer
You will be amazed at how simple the threat management, incident management, and awareness tools are to navigate, how easy it is to customize the Platform to fit your organization or community's needs, and how much time and money it will save you as you begin to effectively automate priority tasks and increase awareness while moving towards prevention rather than reaction.
---
Experience an immediate ROI with the award-winning Information Security Awareness Modules plus the Awareness Accountability Vault (AAV)!
Organizations are wasting countless hours and resources:
printing handbooks
making updates to policies
sending out revisions
tracking down employees to have them sign off that they read the new policy
keeping track of who has seen and who has not seen what
Awareity is automating these status quo efforts and providing a more seamless and efficient method for ensuring all individuals are aware of their individual roles and responsibilities, including the other 364 days of the year beyond annual training and certification. In addition to award-winning Information Security Awareness Training modules, the AAV also provides organizations with the tools to track and document accountability and compliance in real-time with audit-ready documentation. Though we hope it never comes to that!
Register for a FREE demo today or request a demo for your team!
---

Community-wide Connecting the Dots Platform
At Awareity, we understand the critical importance and the world-changing advantages to having the right tools and knowledge which is why the Community-wide "Connecting the Dots" Platform (TIPS: Threat Assessment, Incident Management and Prevention Services) is not just another status quo incident reporting solution and not just another case management system.
The Connecting the Dots Platform is a comprehensive, community-wide platform that utilizes the 6 Essential Steps to Preventing and eliminates common and dangerous GAPS that almost always keep critical pieces of the puzzle from getting to the right people in the right places at the right time with the right updates so people can do the right things…right now in order to save lives and promote safety and trust within your community!
"THE TIPS ANONYMOUS AND DISCREET REPORTING SYSTEM HAS RECEIVED QUITE A NUMBER OF THINGS REPORTED THROUGH THE SYSTEM THAT HAVE SAVED YOUNG PEOPLE'S LIVES AND IN OTHER INSTANCES HELPED YOUNG PEOPLE WHO WERE STRUGGLING. THE SYSTEM HAS PAID FOR ITSELF MULTIPLE TIMES OVER."
Register for a FREE demo today or request a demo for your team!
---
---
Not seeing the form to request information? Drop us a line to and we'll send you more information!